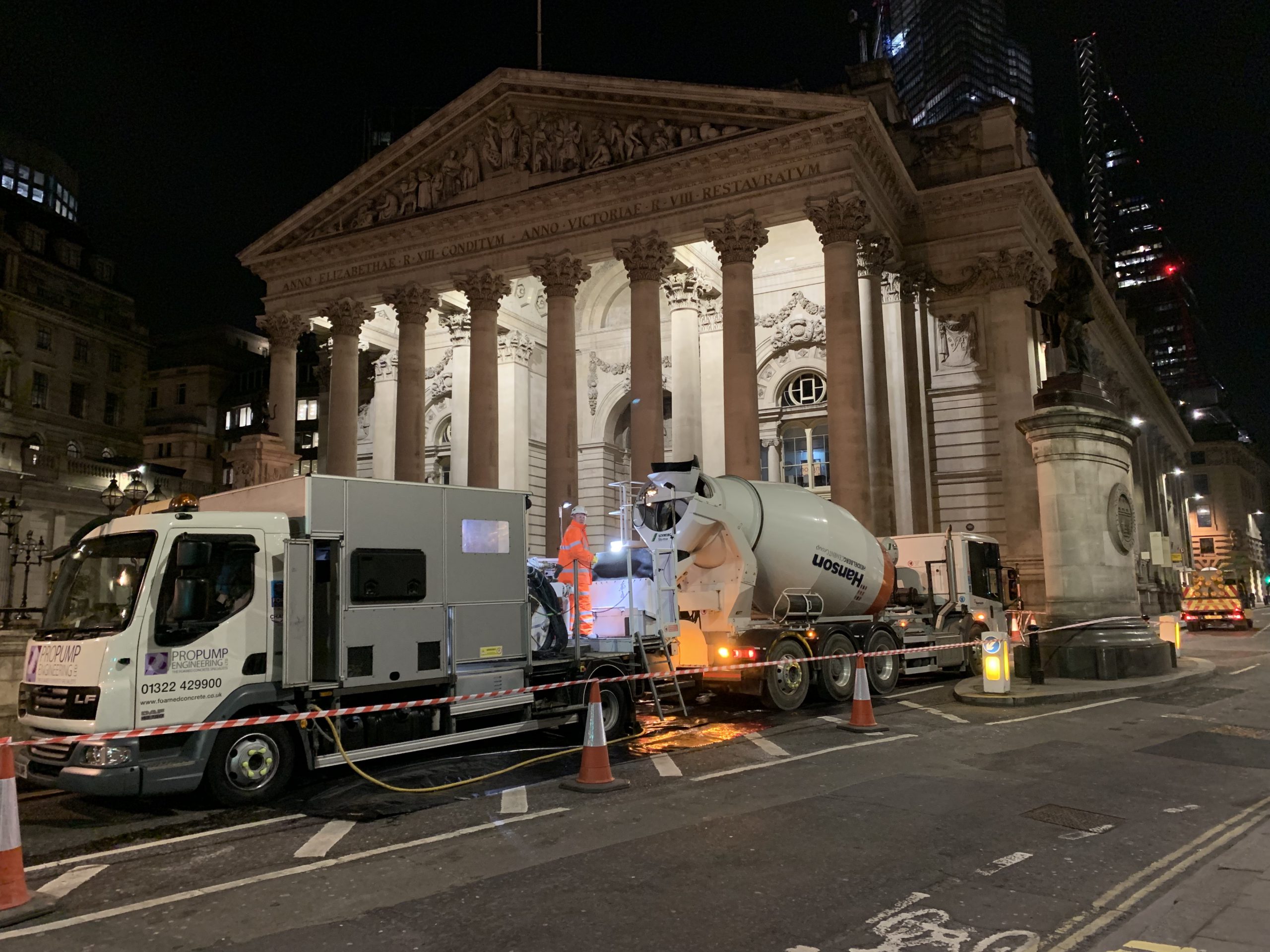 Foamed Concrete Case Studies
Case Studies
Case studies are an excellent way to convey the depth and breadth of our technical knowledge, material abilities and commitment to service.
Please find below a few examples of projects that we have worked on, including examples of size or complexity.
Newhurst Quarry Loughborough
Combe Down Mines Case Study, Bath, Somerset
| | |
| --- | --- |
| Typical Strength Requirement: | 1 N/mm2 – 1.5 N/mm2 |
| Density Requirement: | 600 – 675 kg/m3 |
| Volume Requirement | Entire project 650,000m³ |
Background:
The mines in Combe Down are Oolitic Limestone mines and they were worked mainly during the 18th and 19th Centuries to service the huge volumes of stone required to satisfy the demand of building developers in Bath , Bristol and London .
The Combe Down Stone Mines are designated as a Site of Special Scientific Interest (SSSI) and a Candidate Special Area of Conservation (csac).
They are one of the 20 top bat hibernation sites in Europe and 7th best in Britain. The Greater Horseshoe Bat is one of the largest and rarest bats in the UK and is found only in south-west England and West Wales
The mine lies over a Grade 1 aquifer and is of international geological importance partly due to the work of William Smith.
The stone has been used on many of the worlds finest buildings including Buckingham palace and Number One London (The Duke of Wellingtons London home).
Extent of mine workings covering an area of some 40 Hectares
The works were split into two phases the Emergency works scheme and then following on immediately, The main scheme works for the Stabilisation of the Combe Down Stone mines.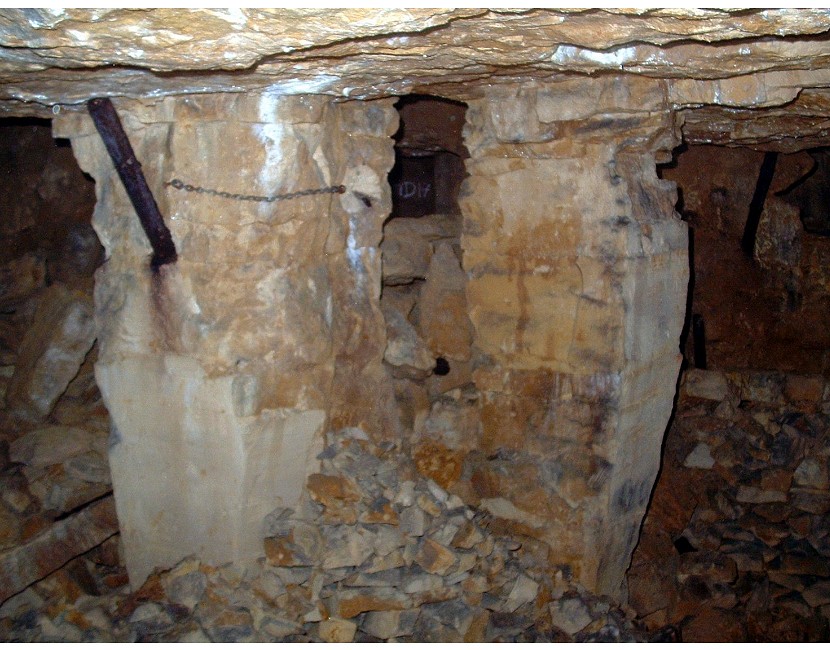 On Site material batching, Daily site deliveries;
12 x 30 ton deliveries of CEM1
6 x 30 ton deliveries of Sand
200,000 litre of water
2,000 litres of foaming agent.
This provides the site with 1200m3 of foamed concrete.
In Conclusion, without on-site batching facilities the 18 material deliveries for 1200m3 equates to 67m3 for each truck through the village. A typical concrete delivery of 8m³ would equate to 150 deliveries.
Materials and placement
The concept of a foamed concrete is to provide a material which is fluid or self levelling but to what extent could this be controlled? Most foamed concrete is produced with a density and cement content with very little thought given to the rheology.
For Combe Down the challenge to provide a material which had the benefits of high yield and a strength capable of supporting the mine roof had always been the goal. However, there was the added complication of controlling the material or making the material intelligent. Therefore, degrees of migration could be called upon seemed an impossible task. As the project moved forward we were able to control much better the flow characteristics of the material as follows.
Use of Accelerators
The client was concerned that when filling the first section of any void, (the area that contained the most amount of discards) the potential for increased material volume could potentially cause an issue, as the foamed concrete could migrate deep into the discards. The solution was to design a foamed concrete that could still be manufactured using the same materials and equipment, but using a different foaming agent made the foamed concrete substantially less flowable, meaning that migration of the foamed material into the discards could be better predicted. This grade of foamed concrete was named Propump 40 grade (PF40) after the foaming agent used to manufacture it.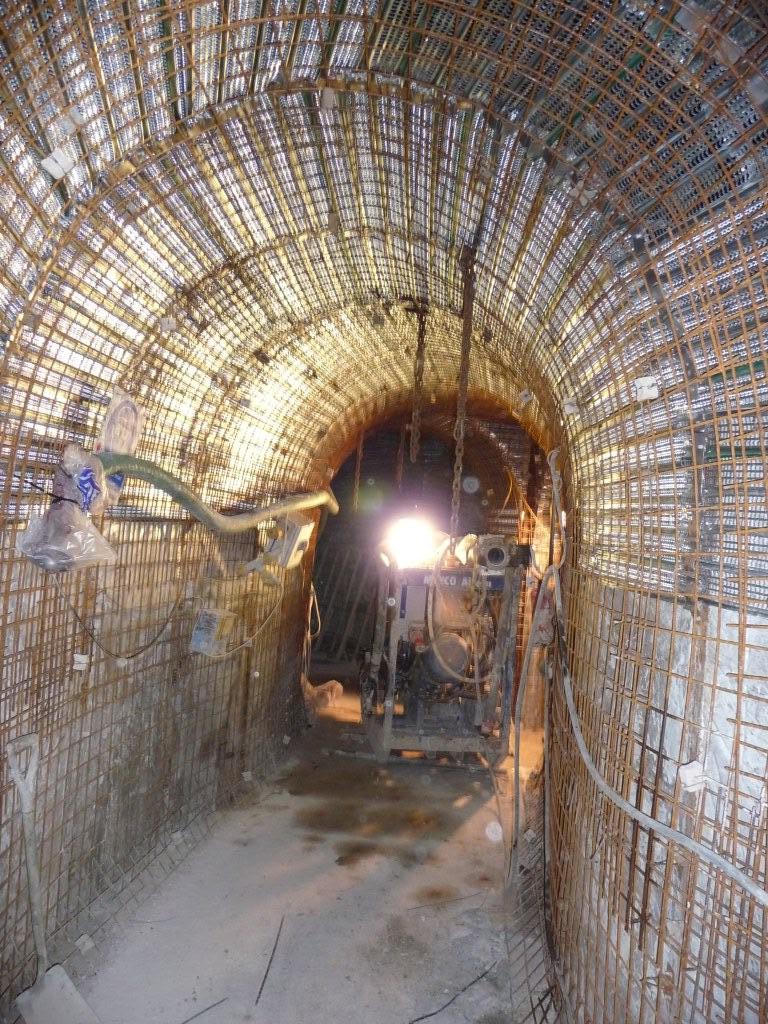 Newhurst Quarry Case study, Shepshed, Loughborough
| | |
| --- | --- |
| Typical Strength Requirement: | 1N/mm2 –1.5 N/mm2 |
| Density Requirement: | 500kg/m3 |
| Volume Requirement | 4600m³ |
Scope of Works:
Propump provided an Ultra-light weight pumpable material, this material had been designed to be placed around a new "energy recovery" plant, the mass void filling material ended up 4 metres deep, 5 metres wide, it was laid in a "trench" around the perimeter of the whole building. Split into two main phases, Propump processed and pumped around 300 m³ per day. Pumping a length of 120 metres through flexible and steel hoses.
Background:
Foam Concrete of a density no higher than 500kg/m³ had been specified to fill a large 5 metre wide by 5 metre deep trench around the new structure. Foamed concretes of this Density have very good thermal insulation properties. Similarly, this material has a much lower density than other foamed concretes and a significantly lower density than other hard aggregates or infill materials. This meant that a single 6 cubic metre delivery of ready mix material produced 25 cubic metres of foamed concrete, allowing an excess of 300 cubic metres to be placed in one continuous hit with no further material working or labour.
These two images show the comparison of heights from the start of works to the last pour, illustrating the 4 metres of lift and the draft angle of the excavated face.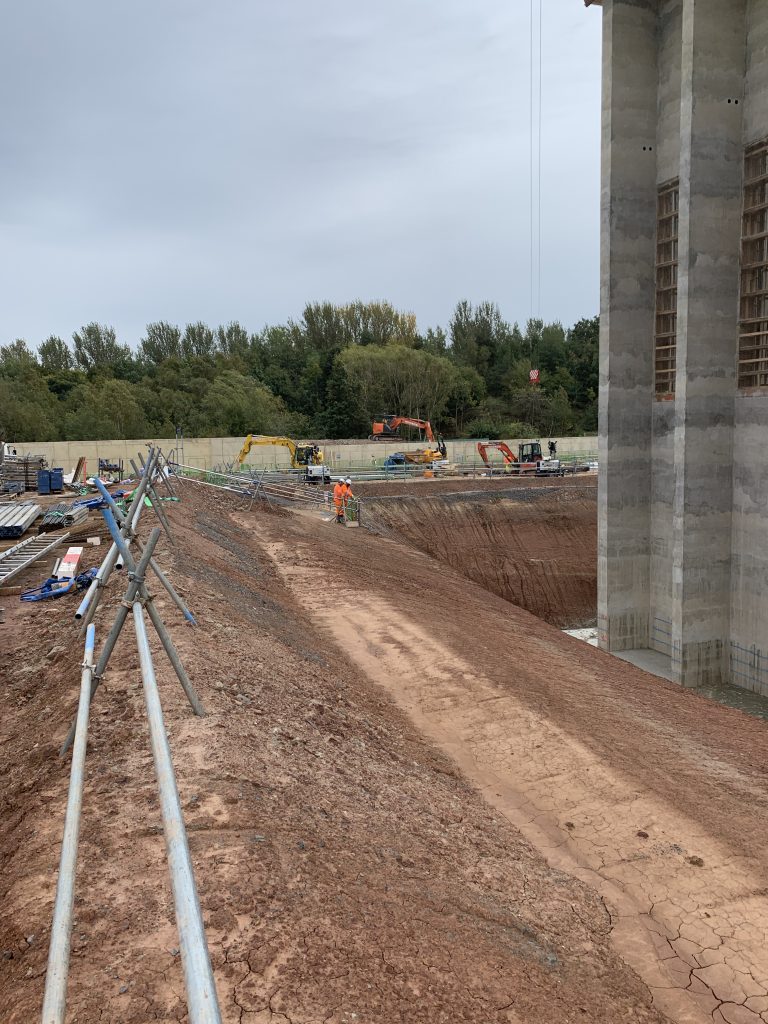 Foamed Concrete ground stabilisation and infill
Material requirements:
Pumpable:

From plant location, discharge point was upto 120 linear metres away

Fluid:

material needed to flow upwards of 40 metres, reducing the number of placement locations.

Self compacting:

it was unsafe to have workers in the area (active lifting area)

Self levelling:

The foamed concrete will flow and level to a degree over long distances

Light weight:

The specification called for a 500kg/m³ material

Thermally isolating

Provides a thermal break between structures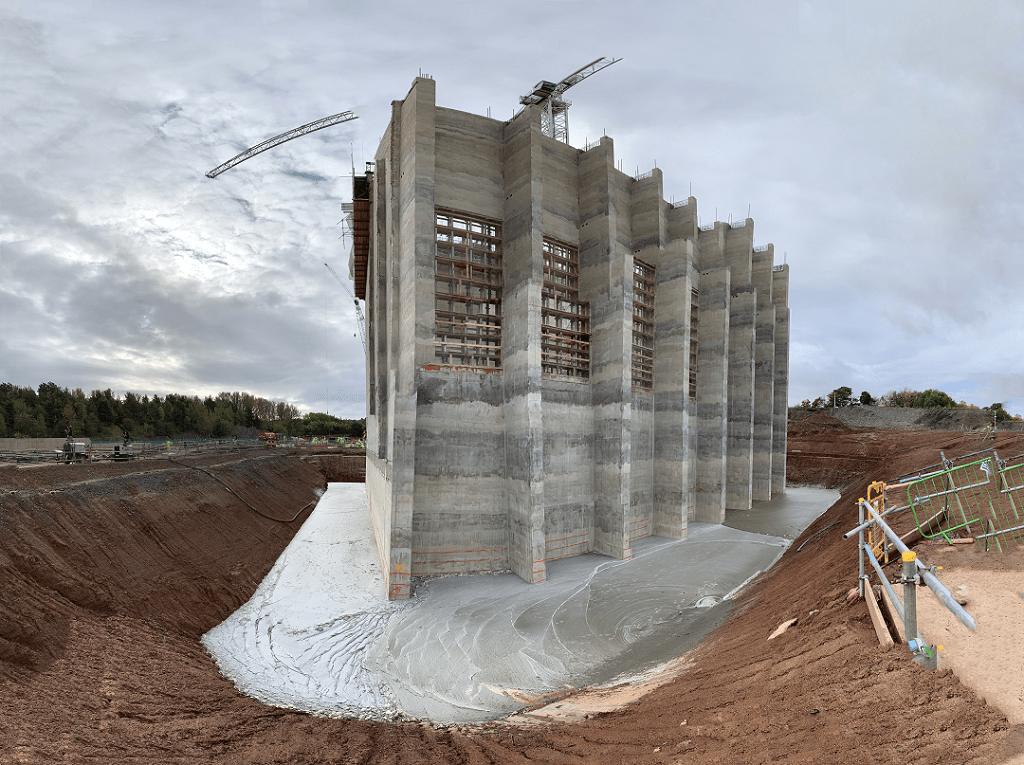 Newhurst Quarry Loughborough
More information
Propump Consultancy Services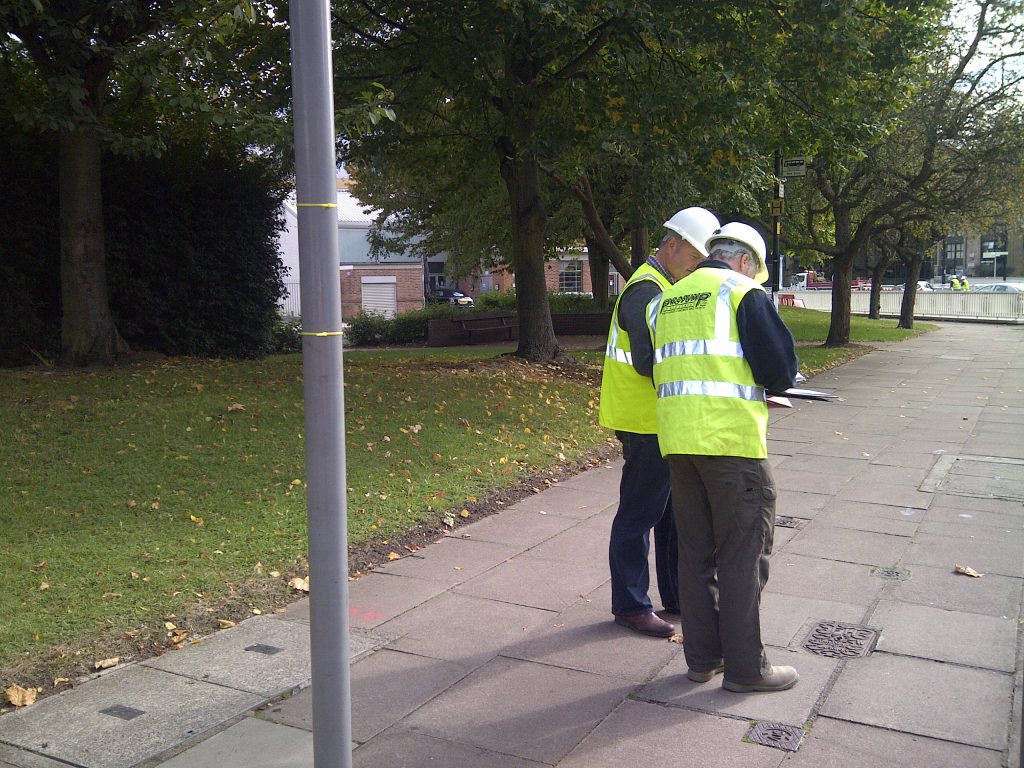 Propump news & articles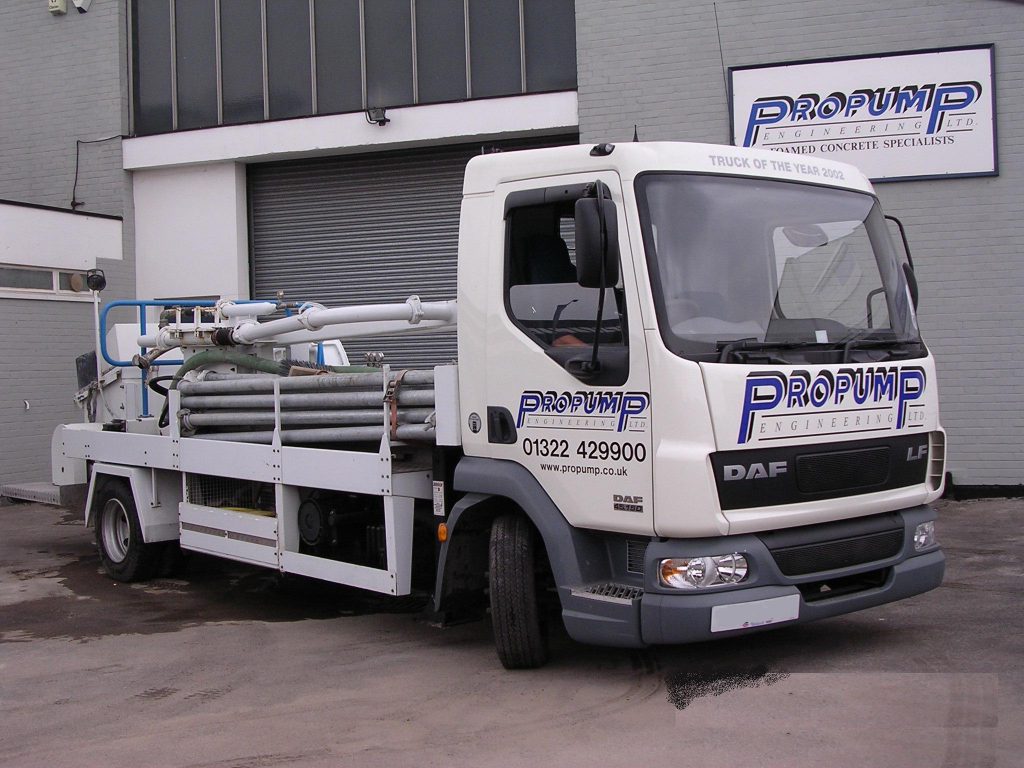 Why choose foamed concrete?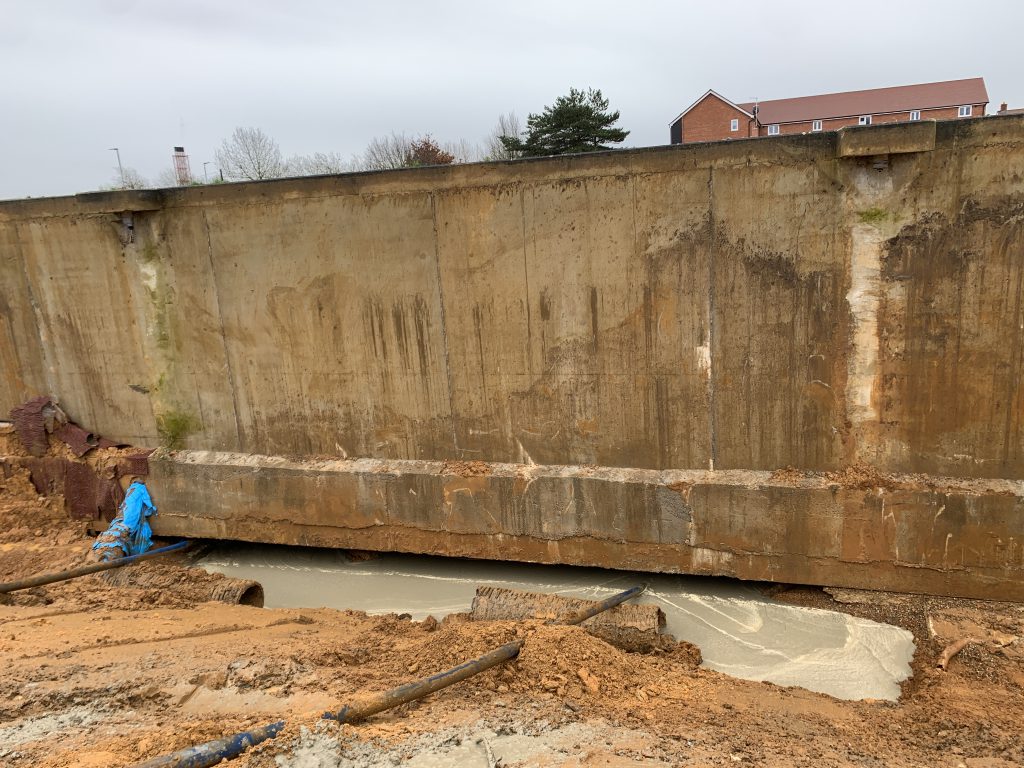 Projects by Propump